Welcome to Mahé, the main island of the Seychelles in the Indian Ocean
Here you get the worldwide unique opportunity to acquire a small piece of paradise. Become a co-owner of our "The Treasure Farm" in the mountains of Mahé, where fruits, vegetables, spices and flowers sprout.
Together with your co-ownership you are allowed to use the great and extraordinary noble title "Lord of Anse Boileau" from now on. Ladies receive the title "Lady of Anse Boileau.
With the purchase of your certificate you support at the same time the whole village around the farm and help the inhabitants to be able to continue to supply themselves free of charge from this Garden of Eden.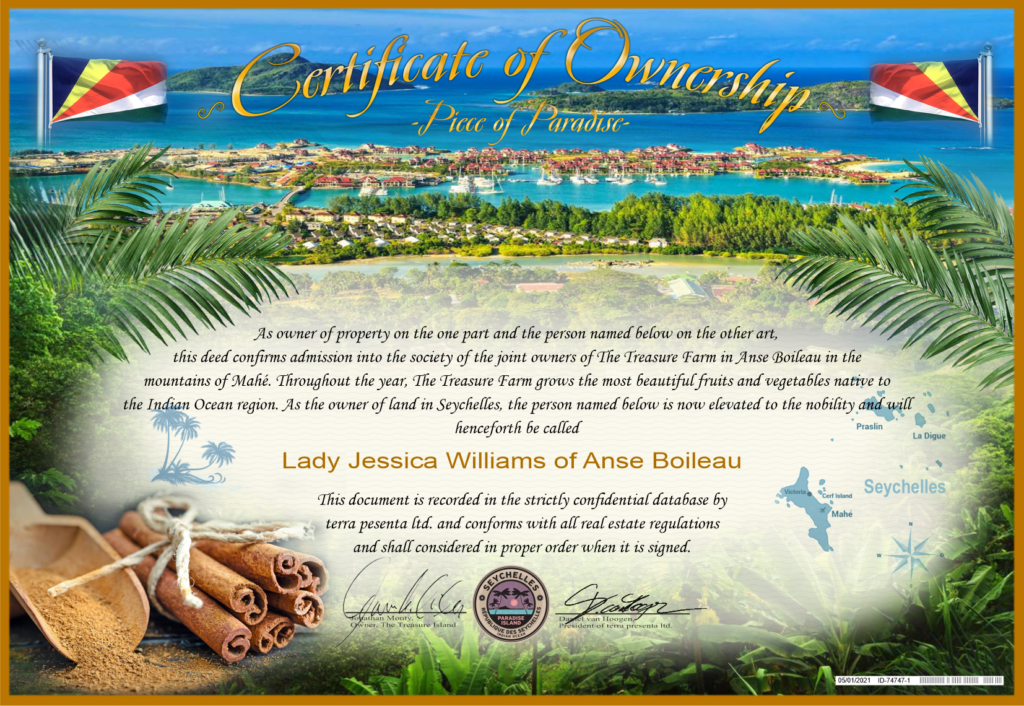 ---
What is this about?
Together with Jonathan we offer you a co-ownership of "The Treasure Farm" in the Seychelles. With the purchase you are entitled to the title Lord or Lady of Anse Boileau and you also directly support the farm.
Everything from bananas, to cinnamon, limes, lemons, hot peppers, papayas, three different varieties of coconut palms, to herbs like thyme, oregano and more can be found on this unique piece of land. In addition, there is a stunning view of the bay of Anse Boileau, which presents a dreamlike sunset in the evening hours.
Residents come from all over the neighborhood to help plant and harvest. During the difficult times that Covid-19 also brought to Seychelles, Treasure Farm fulfilled the important role of serving as a vital food source for the neighborhood. Jonathan shared all his treasures with everyone, never thinking of taking anything in return. This reflects the warm and socially just interaction that all Seychellois share.
---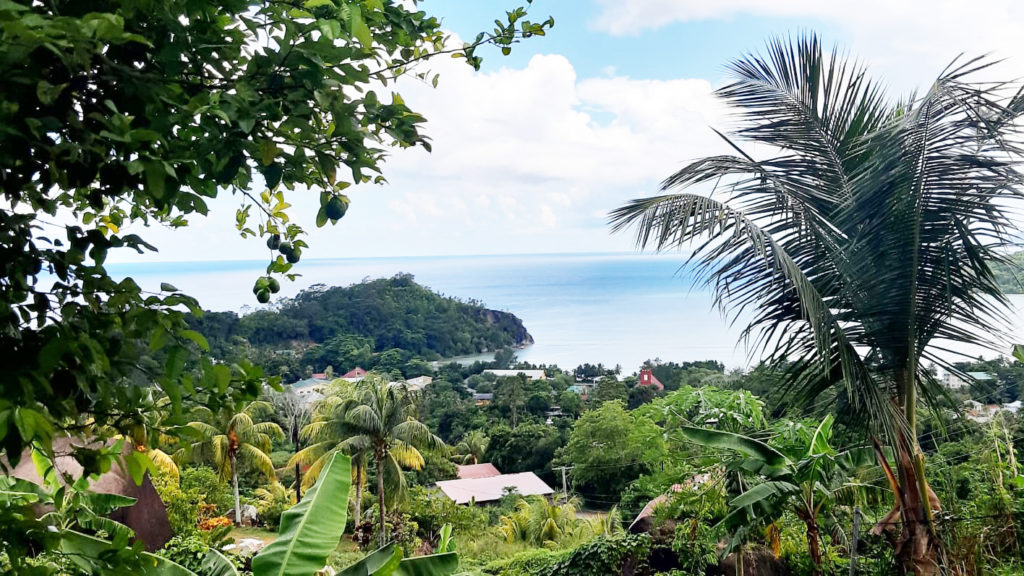 At Treasure Farm, fresh fruits and vegetables are available throughout the year. The supply varies slightly from season to season, but most fruits grow in all months. In addition, Jonathan has a large bed with a wide range of spices such as vanilla, cinnamon, clove, nutmeg, citronella, patchouli and chili, ginger and garlic.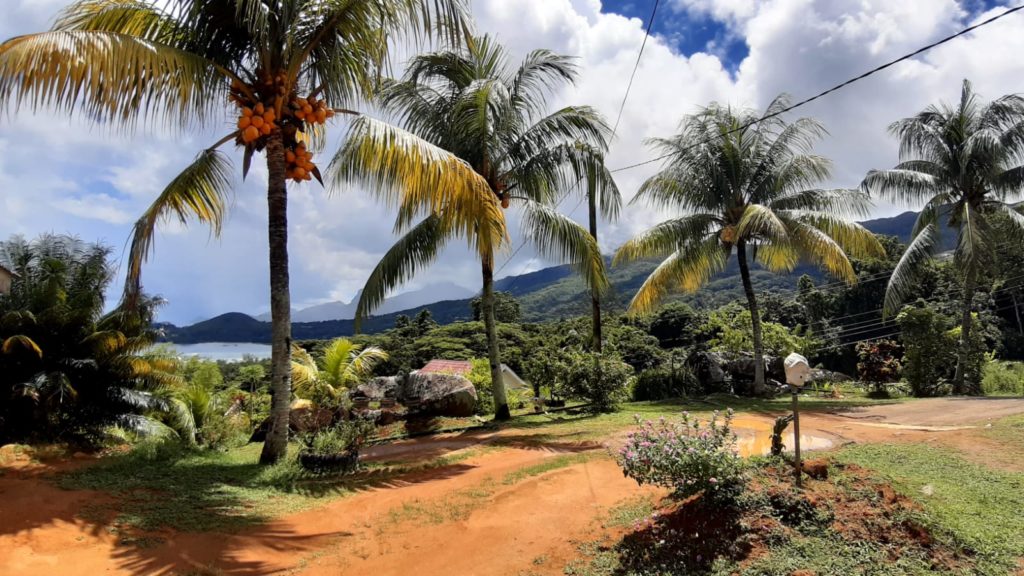 Together with terra presenta Jonathan now offers you a co-ownership of his farm.
You become a co-owner of this piece of paradise in the Seychelles. By buying, you support Jonathan and all his neighbours directly and without detours, so that seeds, irrigation, equipment and much more can be purchased for agricultural needs.
You will receive a splendid certificate, which gives you both joint ownership and the right to bear the title "Lord or Lady of Anse Boileau" confirmed and in addition an informative brochure with many pictures and impressions of the farm. Everything comes together in a gift folder. This is not only a beautiful and social gift idea, also in your living room the appointment certificate is a great eye-catcher. Be happy already now when you can announce to your visitors that you own a farm in the Seychelles as a Lord or Lady.
---
2023-04-19